With the continuous progress of society, the traditional agricultural production mode has been unable to meet the needs of the development of modern civilization.The so-called agricultural equipment, in fact, is mainly greenhouse facilities, it is not limited by time and space, can be in the plateau, deep mountains, desert and other special environment for agricultural production.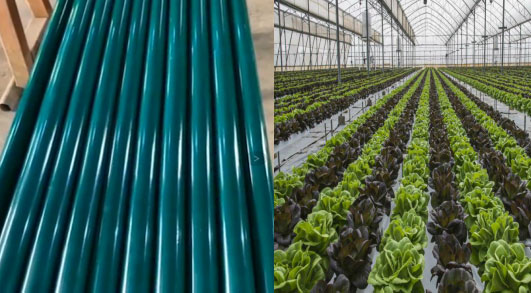 China is a big agricultural country, with more than half of the population being farmers. There is an infinite room for agricultural innovation and application. The agricultural equipment industry has moved from the background to the front of the stage.Throughout the domestic greenhouse industry, large and medium-sized enterprises are uneven, the landed greenhouse project quality is also different.
In this environment, our company has invested in the production line of greenshed pipe, new product-plastic coated steel pipe, has better corrosion resistance than the traditional steel pipe, increases the service life of the product, reduces the cost of farmers, and expands the investment benefit.